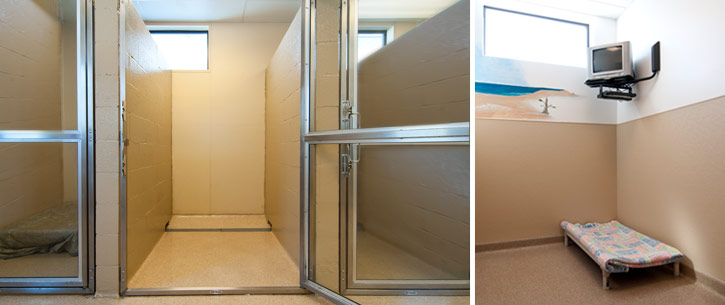 Dog & Cat Vaccination Policy for Boarding & Grooming
For the health and welfare of every dog and cat who stays with us, owners must supply Hobart Animal Clinic, Luxury Boarding or the Pet Grooming Center with the following items listed below.
Visitors Must Provide One of the Following:
1. Veterinarian receipt documenting ALL proper vaccinations have been received.
2. Faxed copy of veterinarian receipt showing ALL vaccinations are current.
3. Telephone verification of ALL current vaccinations from pet's veterinarian.

If this information is not provided, is not current, or if the Bordetella and Canine Influenza (H3N2) vaccinations haven't been given within 14 days prior to your pet's visit, we will not be able to accommodate you at this time.

All pets should receive an annual fecal exam to detect the presence of intestinal parasites. That verification will be filed with your pet's medical records. Hobart Animal Clinic, Luxury Boarding & Grooming reserves the right to refuse services to your pet for any reason.
For Dog Visitors
Distemper/Parvo Combination (yearly vaccine), Rabies (yearly or three year vaccine), Bordetella (yearly - This vaccination must be given at least 14 days prior to pet's visit to ensure maximum protection), Canine Influenza (H3N2) vaccine (needs to be given 14 days prior to boarding if pet is not up to date and has never received the vaccine.), Leptospirosis, and provide a negative fecal and be flea free.
For Cat Visitors
Your cat(s) annual vaccination and stool sample evaluation are required to be up to date (with proof if not performed at Hobart Animal Clinic). If the vaccinations and stool sample evaluation are not current, we will treat your cats at your expense. If your cat should experience medical problems while in our care, we will treat your cat accordingly. By choosing to board your pet with us we assume you will take financial responsibility for this treatment.
You must also make sure your pet is FLEA FREE and up-to-date with FVRCP (yearly vaccination) & Rabies (1-3 years)